Las chicas amazonas también solo quiren divertirse
Este es mi primer sexplotation film! (original, porque los de Quentin no cuentan y la verdad que no recuerdo haber visto otros no se si el film de Ken Rusell "The Lair of the White Worm" cuenta asi como tal) y la verdad que fue muy divertido ver las fuentes de las cuales mana el cine de Quentin.
Como mujer encuentro increiblemente gracioso todo el tema de la "amazona" bailarina de Go-Go (strippers) que salen a patearle el trasero a todos, mujeres y hombres y que en el camino de esta necesidad bizarra de poder y extralimitaciones femenínasy curvilíneas, se encuentran con personajes mas detestables que ellas.
Porque una mujer es de temer para algunos hombres y si encima son strippers amazonas insaciables, que tienen deportivos y siempre "quieren mas" y vienen de a tres, todavía lo son mas. Este film es ideal para un viernes a la noche: carrera de autos, violencia estilizada con pantalones ajustados y pechos exhuberantes, y personajes estereotipados, y ¡la música!!! La música pegadiza, sesentosa y llena de saxos, cual banda sonora de Robert Rodriguez. Es el padre de Death Proof, mezclado con "Texas chainsaw masacre" por la cantidad y calidad de la familia de locos que las amazonas se cruzan en el camino. (aunque no hay sierras lamentablemente)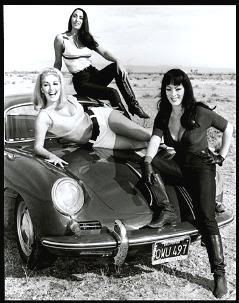 Adoro los sesenta, los peinados y la escasa ropa Pin up que las chicas llevan, pero que decir de los deportivos!!! con un automovil así también me volvia una amazona maniática y con sed de poder (ironia en verdad me tendria que cirujetear bastante para sacar el cuerpazo de esas muchachitas y aún asi me faltarian 20 cm mas de altura a parte de los tacos, no se solucionaria con un auto pero el auto ayudaría bastante.)
....Y si a veces las mujeres como yo se rien de ver tanta misoginia y desfachates en peliculas de culto de los sesenta!!!
Esto es todo por hoy amantes del septimo arte!